4. Machine intelligence

Expands the creative process

Creative tools have long been rooted in our traditional frameworks for practical making, playing a narrow role in the creative process that targets specific moments of production. However, there's both academic and practical evidence to suggest our creative processes are expanding, and that machine intelligence is poised to be a key scaling-agent.
Measuring creative ability and art
"What's your creative process?" is a question likely encountered by any creative professional navigating the world of job applications and interviews. Perhaps equally likely to be asked (if not more): "What creative tools do you use?". The answers to these questions hold a curious amount of weight, often viewed as a barometer of someone's creative abilities and skills. Some creatives even go as far as visualizing their response in the form of bar-charts, flow diagrams, and star ratings for inclusion in a resume or portfolio.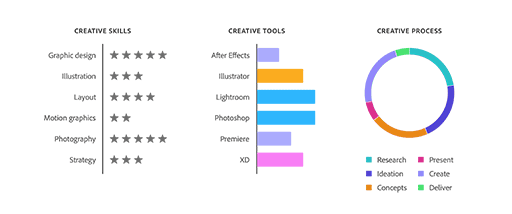 But why would a person's creative ability be measured against their tool and execution choices—especially when some of culture's most iconic and recognizable creative works are visually simple and easily replicated? Perhaps two explanations can be drawn from our past considerations of the term "art"…
"Art" as a way of doing: Writing in 1935, French poet, essayist, and philosopher Paul Valéry matter-of-factly opens his essay "Notion générale de l'art": "The word ART first signified a way of doing things, and nothing more".1 By this framing, "art" is a descriptor of the way things are done. For something to be executed "artfully" is for it to be carried out with skill, cleverness, and good taste—as measured by both the quality of output and the quality of process driving its creation. Here, "art" is a term directly concerned with the question "what's your creative process?".
"Art" as a level of making: Before modern definitions of "art" had emerged, the Ancient Greeks used a single word to encompass both arts and crafts: "techne". By including both concepts under this term, an emphasis was given to the physicality of making, with an attentiveness towards the materials and workflows involved. Further supporting this mentality was another Greek word: "episteme", meaning to hold knowledge of principles. Together, "techne" and "episteme" informed "art" to not only be interested in physical making, but also in the skill-level of the maker—as demonstrated by their knowledgeable and expert use of tools to manipulate their materials.2 Here, answers to the question "what creative tools do you use?" serve as strong indicators of someone's creative abilities.
In both of these perspectives, "art" is a concept rooted in the practical acts of making that occur when tools and materials are brought together. In fact, these same roots are on display in the creative landscape of the previous essay—where materials and tools are the basis of our current creative domains, and a practical view of making is fundamental to the ways creatives approach their work today.
---
A structure for practical creative making
If materials and tools are the foundational elements of practical creative making, then we should also identify the further levels of structure that creatives have built on top of it. The following is a hierarchy of creative terms that support this "making" narrative, including definitions, and also examples from a number of creative domains: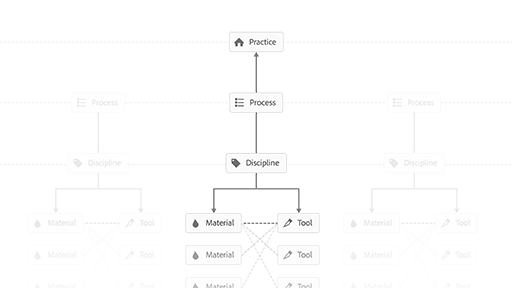 | | | | | |
| --- | --- | --- | --- | --- |
| Material | A raw creative substance, that's subject to manipulation and change | Ink | Clay | Photographic film |
| Tool | An implement of creative change, that's wielded by the maker | Dip-pen | Hands | Camera |
| Discipline | The named pairing of a creative material and tool. [Sometimes within a single discipline, a material can be paired with multiple tools, or a tool paired with multiple materials.] | Calligraphy | Pottery | Portrature |
| Process | A sequence of creative actions, carried out by the maker. [Processes can make use of multiple disciplines.] | – | – | – |
| Practice | A named family of processes that share a common context. [Also known as a "Creative Domain".] | Lettering and typography | Ceramics and sculpture | Photography and film |
Although this hierarchy can, at first, appear quite rigid, scrutiny reveals a relaxed level of flexibility is available here. For example:
Disciplines aren't limited to a single tool and material pairing: Pottery, as a discipline, can include multiple tools that help to mold and shape the clay.
Processes can touch a variety of different disciplines while developing a piece of work: Oil paintings often start as pencil sketched on canvas before any brushes and paints are introduced.
Different practices can comfortably share overlapping processes with each other: Beyond visual design, a Graphic Designer might adopt processes of research, writing, illustration, video production, and more, all within a single project.
As these examples demonstrate, looseness is what gives this hierarchy the ability to support a broad landscape of creative practices while still maintaining its core structure. Playing with that flexibility also helps us start to visualize the different ways makers move through their creative work.
---
How creatives move
However, before diving headfirst into an activity of depicting various creative practices against this hierarchy, it's important to remember that creative process isn't fixed. The same creative outcomes can be arrived at by multiple different approaches, and even a task as preliminary as 'selection' can be executed in many different ways. Any attempt at capturing this vast array of creative movements would be an ambitious undertaking prone to oversights and information gaps. Instead, are there qualities of today's creative processes we can observe from a disciplinary perspective?
To help us articulate this further, Marilyn Stember, writing in The Social Science Journal in 1991, identifies five different types of disciplinary movement experienced in both individual and collaborative work.3 Although writing for an academic context, what she describes is just as applicable to creative making. These five movement types are shared below, using their given disciplinary names but with descriptions and examples adapted to a creative setting: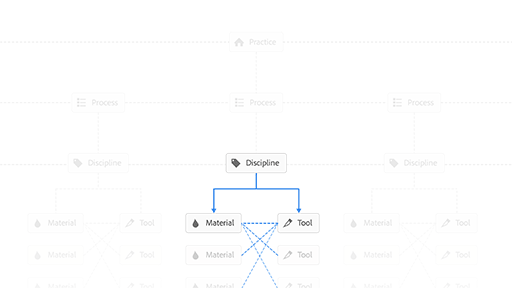 Intra-disciplinary
Creating within a single discipline
Example: Regardless of the work's subject matter or purpose, drawing disciplines (such as sketching or charcoals) are focused on working with a single material.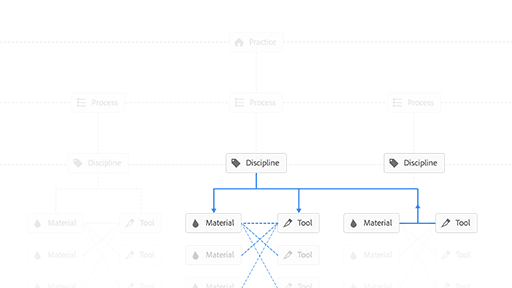 Cross-disciplinary
Creating within a single discipline, while also pulling elements from other disciplines and applying them to the current discipline's context and perspective.
Example: A painter might first plan their canvas by sketching an outline of their composition in pencil. This pulls from the discipline of sketching but does so in a way that maintains the disciplinary context of painting.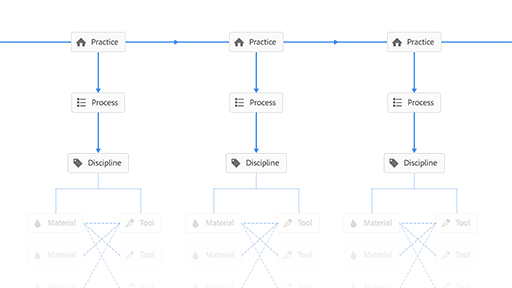 Multi-disciplinary
A sequence of different disciplines that require contribution from multiple practices (and their given processes).
Example: Creating an event poster engages a number of distinct creative practices, which often includes (but isn't limited to): writing (the poster copy), photography or illustration (for poster visuals), graphic design (to assemble, stylize, and organize the assets), and printing (to produce the physical hard copies of the poster). These practices come together in relay, preparing their output in a way that can be passed on to the practice that follows.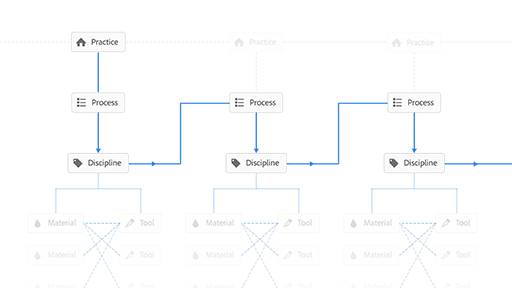 Inter-disciplinary
A sequence of multiple disciplines and processes, but that operate within the context of a single practice.
Example: Video content creators are often known for self-producing their media start to finish, including the writing, performing, filming, post-production, editing, publishing, and marketing of their original content.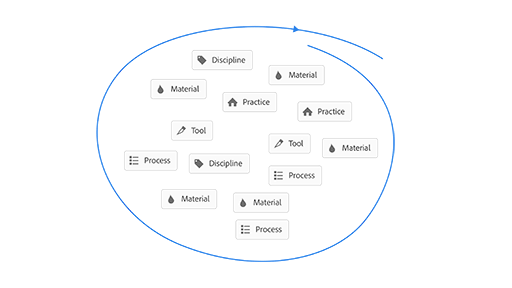 Trans-disciplinary
A fluid engagement of materials, tools, disciplines, processes, and practices, that moves beyond any existing disciplinary perspective.
Example: Comparing creative practices to music genres; some musicians can apply their intimate grasp of musical styles, theory, and practice, to create music that challenges a listener's ability to assign a pre-existing label to it. Although many of the individual parts are potentially identifiable, how they're brought together transcends the boundaries of known terminologies.
---
Movement support and movement needs
Of these five disciplinary movement types, both intra-disciplinary and cross-disciplinary workflows feel well supported by the tool offerings of the present-day creative landscape. But for multi-disciplinary and inter-disciplinary workflows, the landscape's siloed nature causes friction, compatibility issues, and learning curves for any creatives attempting to move in these expanded ways.
In the previous essay it was speculated as to whether or not creatives are content with silos. After-all, the existence of multi-disciplinary collaboration is an answer to the problem—rather than struggle through the friction, simply pass the work onto someone else already fluent in the desired practice. Maybe silos are actually a helpful way for creatives to stay focused on developing deep knowledge around a particular discipline and tool set?
Or, do case studies of recent creative work reflect a different story, and acknowledge a growing presence of creatives who are expanding their creative process by way of inter-disciplinary (and even trans-disciplinary) approaches?
---
Case Study #1: Graphic design for film with Annie Atkins
Annie Atkins is a Graphic Designer for films, responsible for the creation of graphic props used as set dressing and for characters to interact with on-screen. Speaking at the 2017 AIGA National Design Conference4, Atkins shared details of her process working with Director Wes Anderson on "The Grand Budapest Hotel", highlighting moments of inter-disciplinary creation that she and her team encountered during the making of the film:
"[Regarding the] permit we made… this wasn't something that we just pressed 'go' on a photocopier ten times… We sourced this beautiful Japanese paper that would take aging really well; And then we did some digital printing on it; And then we put it through a 1930s typewriter; And then we made some rubber stamps to do our franklin marks; And then we made an envelope for it because there was no envelope in the world that was exactly the right size; And then we made twelve identical copies [that could be used in multiple takes]."
Earlier in her talk, Atkins describes the logic behind her approach as follows:
"…[When] I did my training, I realized quite quickly that just because there were no graphic designers in the 15th century, didn't mean there was no graphic design. It's just that at that time it would have been the craftspeople who were the graphic designers… What we're trying to do in film, is take, and steal, and borrow from the real-world around us that has been built by incredible craftspeople over decades and decades, [so] we can get a step closer to creating something that feels like it might be authentic."
Where the process of Atkins and team touches common disciplines from both a multi-disciplinary or inter-disciplinary perspective, there are undoubted moments where this unique context of film and television production promotes new methods of working, and broadens our scope for creative making.
---
Case Study #2: Storytelling and world-building with "The Mandalorian"
As part of a round table discussion on hit Star Wars television adventure "The Mandalorian", the show's creative leads contemplated their own experience of expanding process.5 Co-creator Jon Favreau recalls "…all of it was spent facing the challenge of: how do you get something ready with a lot of prep-time and not a lot of post-[production] time, relative to a film?"
Comparing against the multi-disciplinary hand-offs typically seen in film production, the group goes on to describe their adoption of a more iterative workflow. In particular, taking inspiration from the world of animation, and giving emphasis to storyboard animatics and pre-visualization. This method allowed entire episodes to be formulated, developed, and planned collaboratively across writers, directors, producers, set crews, production artists, and more, all before cameras started rolling. In support of their approach, Kathleen Kennedy, Executive Producer and President of Lucasfilm, notes, "There's a permanence to live-action… and anything about the process that allows you to iterate longer… make[s] for better movies".
As part of the same discussion, the team also describe a key technical innovation that played a major role in production: "The Volume", a film set built entirely out of curved, wall-to-wall LED panels. Instead of using green-screen or traveling to a location to capture footage and then add backgrounds and special effects later, "The Volume" allowed for 3D digital landscapes and scenery—that would normally be added in-post—to be displayed on the walls in real-time during the filming of scenes, and even be updated and changed on-set as needed. Emphasizing "The Volume's" significance, Director of Photography Baz Iodine elates: "The ability to shoot…a 12-hour dawn is extraordinary. To shoot any sequence where you say, 'Oh, this world's not quite right, let's just move it a little bit, let's just change this a little bit'—It's mind-blowing what that tool is."
---
Creative expansion: process, technology, ideas, us
During an interview with web publication, It's Nice That, for a report on creative skills published by Adobe, Pentagram partner Marina Willer highlights an increasing need for creative work to move beyond the landscape our current tools serve: "You can't just think of ideas as flat and static, the world isn't like that anymore. They need to be malleable, adjustable, reactive and participative".6
Willer's sentiments are well supported by the examples of Annie Atkins and The Mandalorian in two ways:
First, by demonstrating creative processes that expand beyond silos and promote spaces of inter-disciplinary and trans-disciplinary work. Here, creatives iterate their ideas across multiple disciplines and domains, working past the friction of compatibility and learning curves. For example, a discipline as specialized as film-editing, can here expand into the complete creative process of film-making.
Second, by embracing new technologies and innovations that help facilitate new workflows, and let creative materials and ideas start to move in ways like Willer describes…as "malleable, adjustable, reactive, and participative". This is material-agnostic behavior we know machine intelligence is capable of.
By zooming-in on the creative landscape, a number of influencing factors that shape our creative processes have been identified. Most notably, that our more traditional styles of disciplinary process are stemmed from a history of craft and making, and are deeply embedded in today's landscape. But creatives are starting to show signs of moving away from these traditions, embracing inter-disciplinary and trans-disciplinary styles in approach. Looking to these creatives offers us exciting first-hand accounts of the ways our processes are expanding, and a glimpse into the kinds of movements that will be commonplace in the next creative wave.
These accounts also help to highlight the areas of product experience that machine intelligence is most poised to innovate. Alongside expanding processes, it might even help us change the questions we use to scrutinize our own creative abilities… What's your creative process? What creative tools do you use?
---
Further thinking
Ask yourself or discuss with others
Do you recall a time you had to answer the questions of "what creative tools do you use" or "what's your creative process"? What was the scenario, and what was your answer supposed to communicate about you?
What does your creative process look like when you're not doing production work in a digital creative application? What kinds of tasks or thinking do you do away from the screen?
Marylin Stember describes five types of creative movement: Intra-disciplinary, cross-disciplinary, multi-disciplinary, inter-disciplinary, and trans-disciplinary. Which one best aligns to your current creative process? (More than one is fine.)
Annie Atkins and the team of The Mandalorian are given examples of expanding creative processes that are starting to resemble inter-disciplinary and trans-disciplinary creativity. Are there other examples you can think of? A project, a company, a creative? Describe their process…
---
Up next
5. Machine intelligence

Reimagines assets and file formats

For an increasingly iterative and collaborative world, digital file management and version control are persisting challenges. Solutions have emerged in spaces like open-source development, but the unique properties of creative file formats are harder to address. Machine intelligence offers new ways for us to monitor and track our creative content, and the potential for a full reimagining of creative assets and file formats.

→
---
References
Valéry, Paul. "Notion générale de l'art." Nouvelle Revue française. 1 Nov. (266) 1er Novembre 1935, pp. 683-693. classiques.uqac.ca/classiques/Valery_paul/notion_generale_art/notion_art.html. Accessed 30 June 2021.
James, Ian. "Tekhne." Oxford Research Encyclopedia of Literature, 25 Feb. 2019, doi:10.1093/acrefore/9780190201098.013.121.
Stember, Marilyn. "Advancing the Social Sciences through the Interdisciplinary Enterprise." The Social Science Journal, vol. 28, no. 1, 1991, pp. 1–14., doi:10.1016/0362-3319(91)90040-b.
Atkins, Annie. "The Secret World of Graphic Design for Filmmaking." AIGA Design Conference 2017. AIGA Design Conference 2017, 14 Oct. 2017, Minneapolis, The Minneapolis Convention Center, 1301 Second Avenue South, Minneapolis, MN 55403, USA, youtube.com/watch?v=SzGvEYSzHf4. Accessed 30 June 2021.
"Technology." Disney Gallery: The Mandalorian, season 1, episode 4, 22 May 2020. Disney+ disneyplusoriginals.disney.com/show/disney-gallery-the-mandalorian. Accessed 30 June 2021.
Hollowood, Kate. The Creative Skills Report, edited by Lucy Bourton, It's Nice That x Adobe, 2020, pp. 16–17, itsnicethat.com/partnerships/adobe-creative-skills-report. Accessed 30 June 2021.
---