1. Machine intelligence

Signals the next wave of creative tools

The history of digital creative tools is aligned closely to the history of consumer tech innovation. Key developments in graphics processing, high-speed internet, and portable devices have shaped "waves" in creative tooling. A growing adoption of machine intelligence technologies suggest the next wave in digital creative tools is arriving.
Art, life, tools
What drives creative change? Fuels creative movements, and inspires creative action?
Art history documents civilization as a sequence of creative periods, framed against matters of the social and the cultural. As a study, it examines the deep relationship of influence between creative works and their historic contexts, and triggers a long-debated question over which influences the other. As early as Aristotle and the Ancient Greeks, creation is cited as an act of copy, an imitation of nature, and a response to the culture around you.1 But "Life imitates Art far more than Art imitates Life" declares Oscar Wilde in 1889, and the question continues in its cycle.2 The feedback loop is easy to get caught in.
However, there's a third participant alongside creative work and historical context: creative tools. Regardless of the causes and affects of creative works, acts of creativity are enabled by and through the tools used by the creator. Tools support the driving of creative change, the fueling of creative movements, and the inspiration of creative action.
---
Origin and evolution
But where do tools come from and how do they evolve? It's fairly argued that anything could be used as a creative tool (from the human body to a tennis ball). It's also true that one tool can hold many functions: a paint brush may be best known as a tool for controlling the application of paint to a surface, but it can also be a tool for mixing; for sculpting; for cleaning…
With these factors in mind, perhaps we might broadly state:
Tools manifest from a human intent to manipulate or control a creative material.
Tools evolve as a way of either optimizing or expanding their uses.
---
The role of technology in creative tool history
In 1985, the advent of digital creativity on computers delivered new materials of bitmaps and vectors to a consumer population, bringing too the possibility for new creative tools. In the decades following, this digital landscape has seen significant expansion; Not only in the number of available tools and their increasing utility, but also in the invention of materials exclusive to digital hardware and displays.
If a key driver of creative change is our tools, then consumer tech has played an influential and establishing role. But how true is this as a statement?
Presented below, is a concise timeline for digital creative tools released between 1985 and 2020, listed in chronological order by software category. Also shown, is a timeline of key tech innovations from personal computing history that were occurring in the same period.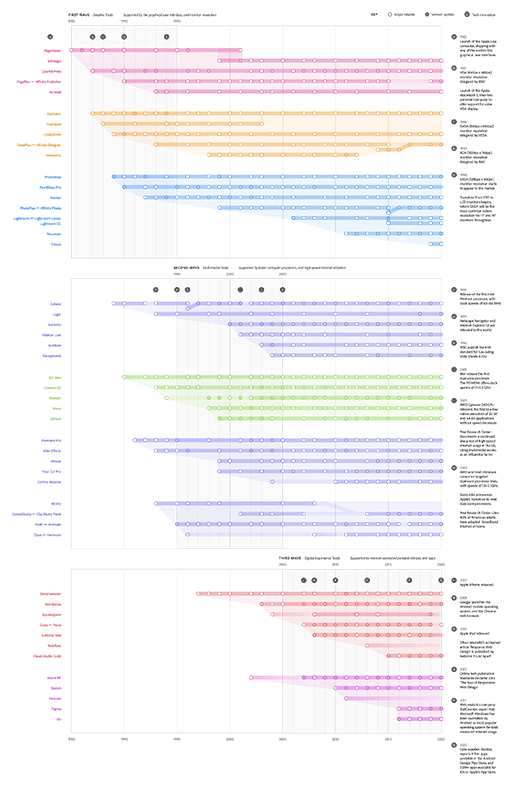 When these timelines are viewed on-top of each other, three clear waves emerge, where core themes in tech innovation are correlated with the development of creative tools.
Here's a closer look at each wave in more detail:
---
1985–1995 | First Wave: Graphic Tools
Supported by the graphical user interface and monitor resolution increases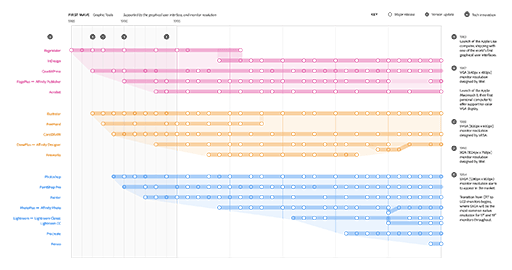 The Apple Lisa—released in 1983 (just before this timeline starts)—was the first personal computer to offer a graphical user interface, making it possible for users to manipulate on-screen graphics without needing to use code.
But it wasn't until 1987, when the arrival of the VGA screen resolution standard (640px × 480px) truly opened doors to digital creation beyond desktop publishing. Vector editing tools Illustrator, FreeHand, and CorelDRAW all released in quick succession during this period. The VGA standard was also quickly joined by SVGA resolutions (800px × 600px) in 1988.
By 1990, XGA (1024px × 768px) was pushing screen resolutions even further, coinciding with the 1.0 release of Photoshop. Raster graphics editors Painter and PaintShop Pro also launched in the immediate years following.
The bulky form-factor of CRT monitors had been consumer standard up to this point. But 1994 would mark the first appearance of SXGA resolutions (1280px × 800px). LCD flatscreen monitors were just on the horizon, and SXGA would keep re-appearing as the most common native resolution (for 17 and 19-inch screens) throughout the transition.
---
1995–2005 | Second Wave: Multimedia Tools
Supported by faster computer processors, and high-speed internet adoption.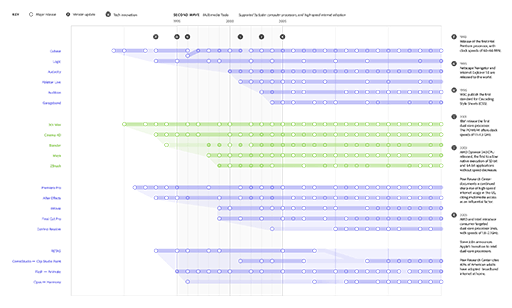 Intel's release of their first Pentium processor (with clock speeds of 60–66MHz) was a watershed moment for multimedia creativity. Alongside screen resolution increases, 3D and time-based media such as audio, video, and animation demanded much more from computer performance and processing speeds, and now it was becoming available.
Where this ability to process multimedia data was a defining characteristic of the period, so too was its sending and receiving over high-speed internet. 1995 saw the launch of web browsers Netscape Navigator and Internet Explorer, followed in 1996 by W3C's publishing of the first standards for Cascading Style Sheets (CSS).
Two seismic innovations occurred in 2001 and 2003, starting with the release of the first dual-core processor. IBM's POWER4 (with clock speeds of 1.1–1.3GHz), although not wholly in-reach for everyday consumers, allowed for multi-tasking and more intensive processing to a significant degree. AMD's Opteron 240 came next, the first CPU architecture to support native execution of 32-bit and 64-bit applications without speed compromises. Also in 2003, Pew Research Center reported sharp rises in high-speed internet usage within the US, citing the streaming and downloading of multimedia files as a factor.
2005 welcomed the arrival of dual-core processors to consumer markets, with notable product lines from both Intel and AMD (offering clock speeds between 1.8–2.1GHz), and Apple CEO Steve Jobs announcing the company's transition to Intel dual-core processors in all Mac hardware. By the end of the year, Pew Research Center declared 40% of American adults had adopted broadband internet at home. Digital creative tools for multimedia, and the infrastructures supporting them, had matured considerably during their journey into the new millennium.
---
2005–2020 | Third Wave: Digital Experience Tools
Supported by internet connected portable devices, and apps.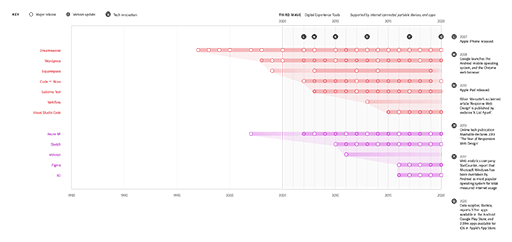 Although creative tools for websites and screen interfaces were around in the previous wave, screen displays had lived a mostly stationery and desktop-driven existence. But, in 2007 the Apple iPhone was released. In 2008, Google launched both their Android operating system and the Chrome web browser.
The world's mass-adoption of smart devices and their app-driven ecosystems led to an increased emphasis on "User Experience Design" in the creative industry. This was only further realized in 2010 with the arrival of the Apple iPad. Now, people were having digital experiences across multiple screen formats and contexts as part of their normal everyday routines.
That same year, Ethan Marcotte's acclaimed article "Responsive Web Design" was posted to online publication A List Apart, outlining best practices for building cross-device web layouts using CSS media queries. But it wasn't until three years later that media company, Mashable, declared 2013 the "Year of Responsive Web Design", and creative tools dedicated to screen layout and interactive prototyping had injected themselves into the market.
In the years following, this rapid dominance of portable devices and the mobile web repeatedly broke usage milestones. In 2017, StatCounter, a web analytics company, headlined that Microsoft Windows had been overtaken by Android as the most popular operating system for total measured internet usage. In 2020, data supplier Statista reported that 3.15 million apps were available for Android in the Google Play store, and that 2.09 million apps could be found in Apple's iOS App Store. "Digital experience" was here to stay. The tools seen erupting onto the creative landscape in this period are still actively evolving today.
---
A summary with enough signals
As an account of history, this timeline is a broad summary that's not without some hand-waving. The true number of creative tools developed for our digital platforms is vast and immeasurable, and the quality of detail available from different developers (even in the selection shown) is varied. But summary can be enough to portray a narrative of tech innovation's significance and influence on digital creativity.
It's also enough to look for signals of the next creative wave…
---
Machine intelligence as a signal
In 2018, auction house Christie's made the first sale of an artwork entirely generated by an AI. The work was created by a Generative Adversarial Network (GAN), a type of machine learning model capable of generating visuals based on a large dataset of sample images it was trained on. The piece sold for $432,500.4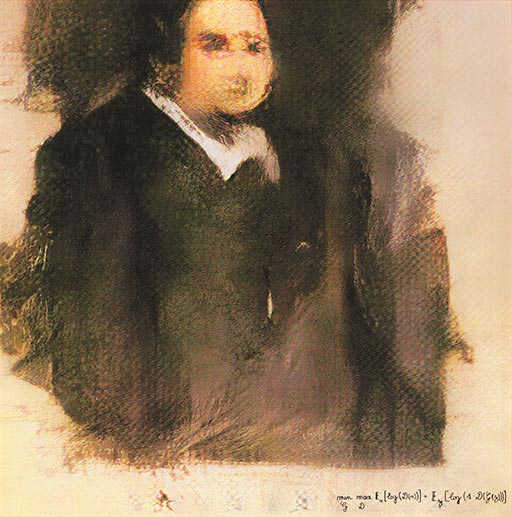 ---
Further thinking
Ask yourself or discuss with others
Do you remember the first digital creative tool you used? What was it? What hardware did it run on?
Think about the creative tools you use regularly today. What are some of their biggest differences compared to that first tool?
Did you personally experience any of the creative waves as they're described in the piece? Do you have any related memories or anecdotes from those periods?
Are there any new or emerging technologies you think will be significant in the next creative wave? Why? Have you had a chance to try them yet?
---
Up next
2. Machine intelligence

Narrows the language gap between tools and intent

The tool-driven nature of digital creative products has perpetuated a "language gap" between a user's creative intent and their creative execution. The content and context-aware nature of machine intelligence is making it possible to narrow this language gap and offer new forms of creative tools and experiences.

→
---
---